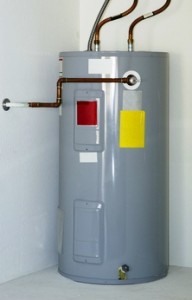 On a 115-degree summer day in Phoenix, your hot water supply may be the last thing on your mind. Heck, some Valley residents might have trouble getting anything but warm water out of their taps at this time of year. It may be true that Phoenix water heaters don't have a very difficult job in the summer, but that doesn't mean you should take yours for granted. Now's the time to schedule a water heater inspection, before cooler weather finally returns to the Valley. Having an adequate hot water supply will seem a lot more important on those occasional winter nights when even Phoenix has freeze warnings!
As any Phoenix handyman or plumber knows, the abundant minerals in our water can wreak havoc with water-related appliances. Warm or hot water especially can carry a lot of dissolved calcium. This may be evident around your water heater's hot water outflow pipe, where you may notice a white, chalky buildup. Inside your water heater, it may be even worse. Minerals deposits on the heating elements can reduce your heater's efficiency and leave you with a much lower supply of hot water than you should be getting. Having these deposits cleaned off will help you get the most for your energy dollar. Heating elements can also go bad, and having your two-element heater running on just one element will reduce your hot water supply even more drastically. Heating elements should be tested and replaced if necessary.
Even if your water heater is functioning well, it may simply not have the capacity to generate an adequate amount of hot water for your household. If your family has grown, you obviously will require more hot water for bathing, washing and laundry. Moving up to a higher-capacity water heater is the only solution, and now is a great time to make the change. By getting your hot water heater installation done at the end of summer, you'll beat the rush and never be left in the cold.
For water heater services and installation, including energy-saving solar water heater systems, contact The Happy Handyman at 480-216-2750 or toll-free at 888-922-9918.